What happens when committed men and women embrace the 'lifestyle' filled with forbidden pleasures, free love, and extra partners in the bedroom! Every week we'll be inviting a new couple to our weekend retreat and mixing them with veteran swingers and trained sex experts.
Watch your favorite full Swing episodes
Playboy TV SWING regulars, Michael and Holli are the go-to experts for couples, single men and single women looking to experience a happier, healthier, sexier relationship. Get an inside peek of SWING's intimate culture, about Swingers, by Swingers, for everyone!
Exclusive adult content is not only sexy but wildly entertaining
Watch the hottest Playboy models live in sexy adult TV shows
1080P HD provocative series, Everything looks Better in HD!
Access Playboy.TV on the go!
Watch full HD episodes, get access to tons of exclusive shows, browse Playboy.TV and see hot Playboy girls playing, partying and getting wild. Access hours of video to watch anywhere, anytime and on any device, from your laptop, iPad, iPhone or Android tablet or phone.
Click here to start watching playboy.tv shows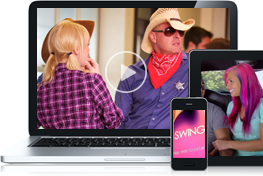 More of Playboy.TV's: Swing